Go Girls! Healthy Bodies, Healthy Minds
Char (Left) is a traditional mentor and mentoring coordinator for Big Brothers Big Sisters of Saint John.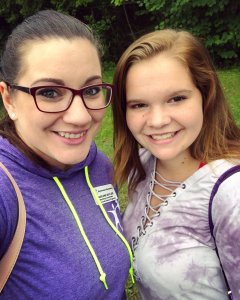 "To me, being a mentor and leader means being a positive and supportive influence for a group of girls who are looking for guidance. I strive to be someone who they can relate to and confide in while providing them a safe, judgement-free environment to share their stories and experiences with one another. I enjoy listening to their stories and having them ask questions and sharing some of the embarrassing and funny stories of being a teen with them. Hearing stories of struggle, resilience, support, and success from both their mentors and their peers give the girls a sense of support and familiarity.
Having the perspective of a positive adult woman in their lives, aside from a family member, is beneficial. A mentor is someone you can ask the hard questions to that you may not want to ask your parent or guardian. It also helps to know that many girls are struggling with similar problems.
Everyone inside the group is different, and maybe they would not be friends outside of the program, but many of their experiences are the same. As a group we encourage the girls to support on another and lift each other up. Sometimes girls have been taught that there's only room at the top for a few, so they have a habit of wanting to bring one another down. We teach them that empowering your peers and other women is important. In my experience as a mentor, I have laughed and shared tears with these girls. I feel like they left the program with more self-confidence and with a new group of friends they knew they could turn to if they needed someone."
Mentorship is give and take:  Younger girls have a valuable opportunity to connect with a trusted older peer, while mentors get to practice their leadership skills and become role models. Both get to learn from the time spent together.
Go Girls! is a group mentoring program for girls ages 12-14 that focuses on physical activity, balanced eating and self-esteem. The single, most important goal of the program is to positively shape the lives of young women and girls by helping them build a positive self-image – setting them on a path to reach their full potential in life. Check out the Our Programs section to enroll a young person or volunteer!