Be a Role Model and a Friend!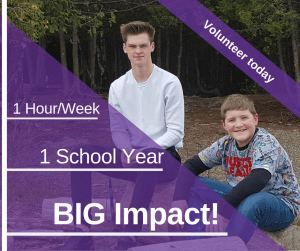 Our In-School Mentoring program provides boys and girls with a role model and friend to talk to and share the experiences of growing up with, on school grounds. For one hour a week during the school year, mentors meet with their mentee and engage in activities such as board games, crafts, or even just hanging out and talking.
Mentors that participate in this program promote the importance of staying in school and maintaining healthy relationships with family and peers. They also instill trust and self-confidence into their Little to help them make healthy decisions. 
If you are interested in encouraging leadership skills and independent thinking, or any of the above, volunteer today!