Isaiah and Jill from Saint John, have been matched since May of 2016 due to their similar interests and personalities. BBBS felt Jill would be provide the right support for Isaiah and now they hang out almost every week.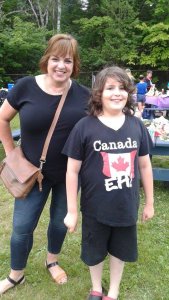 The pair have taken a day trips to Fredericton for a fair, to Mispec Beach for fun in the sun and to the tree mazes. They also have spent time enjoying Cultural Week at Market Square, going out for dinner and having a BBQ at Jill's house. Isaiah said that he and Jill have things in common like bumper cars, laser tag, food and boating. He believes one of the best activities to date was a BBBS trip on a boat that they both enjoyed. Jill feels she has the opportunity to expose Isaiah to new and different opportunities that he might otherwise not be able to try; therefore, she tries to do this as much as possible. 
Jill focuses on improving Isaiah's social skills; for example, encouraging him to better express his thoughts and feelings, using his manners, and helping him connect with his peers. Jill wants Isaiah to develop skills that he can use to form strong, positive relationships long after their match closes. 
Isaiah said Jill is easy to talk to because she is a good listener. He feels comfortable telling Jill about his life and confiding in her, but as a School Principal, some things she already knew. Always excited for the next outings, Isaiah says that Jill makes him feel special and important. Even Isaiah's grandmother Mary has commented on how much he looks forward to visiting Jill each week "He will sometimes be ready hours before she is supposed to arrive and will wait upstairs at the front door long before she is supposed to pick him up."
Across Canada, Big Brothers Big Sisters agencies are providing 40,000 children and youth with the confidence to achieve more, through high-quality one-on-one mentoring and group mentoring programs. You can get involved by volunteering to become a Big Brother or Big Sister today!