Do what you love or try something NEW!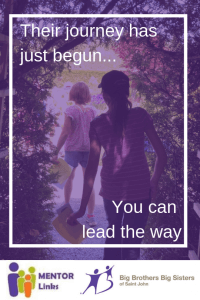 Mentor Links activities take place at various locations in and around the Greater Saint John Area. We shake up our schedule each month and plan for daytime, evening and weekend activities. Based upon the availability of our mentees and mentors, we ask that our volunteers commit to some or most of our outings.
For some children, the wait for a match could be more than a YEAR. This program is a great opportunity for our waitlist children and volunteers to get to know each other and our agency. This allows us to cultivate an environment where strong matches and connections naturally occur. Volunteering a few hours, a month with Mentor Links can change the trajectory of a child's life. 
Across Canada, Big Brothers Big Sisters agencies are providing 40,000 children and youth with the confidence to achieve more, through high-quality one-on-one mentoring and group mentoring programs. You can get involved by volunteering to become a Big Brother or Big Sister today!