1 Hour per Week | 1 School Year | BIG Impact
The smallest actions make the greatest difference for our Littles. Shirley and Trinity from Charlotte County have been matched since February 2017 through our In-School Mentoring Program and since their first meeting the two simply "clicked." They talked and laughed, knowing this was going to be a good match. 
Shirley focused on improving Trinity's understanding of boundaries, for herself and towards others. Now Trinity asks before hugging others and understands what she deserves from others in order to form positive relationships. Trinity says that "Shirley is like my family now. I tell her everything and feel comfortable about doing it." Her friendship with Shirley has improved Trinity's understanding or right and wrong, and provided both of them with many laughs. Trinity has mentioned that Shirley "can mentor me until I am in Grade 12 and then we can be friends after that!"
Across Canada, Big Brothers Big Sisters agencies are providing 40,000 children and youth with the confidence to achieve more, through high-quality one-on-one mentoring and group mentoring programs. We are only able to offer these services thanks to the incredible generosity of people just like you.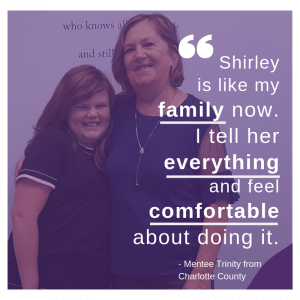 Every $1 invested in youth mentoring generates a $18 return on investment through better educational, employment, health and civic engagement outcomes for our kids. There are hundreds of thousands of children and youth waiting for someone to believe in them.
Help support a national mentoring movement by making a donation or volunteering today!